Here is a free practical solution for the laptop that I made up a few weeks ago in extremely hot day. If you  also use a high-end processor in a slim body and need to work instead of going to beach, you might have experienced the same heat source! I have no complain as it warms my hands in cold winter however  it gave a kind of 'burnt' sensation recently and it always gets worse in summer days.
So these plastic bottle caps help! We can save the laptop and 4 plastic caps from landfill. Plastic caps also have  a nice small cavity at the center that fits to the feet of laptop so well-designed:) 4 caps lift the laptop and reduce the heat by allowing space underneath.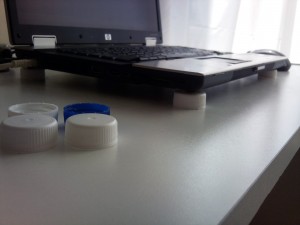 Moreover there is another benefit, now the laptop has more mobility on the desk. It slides smoothly and  can be moved and rotated as you like.. The screen transforms easily from the working mode facing the chair to the movie mode facing the bed..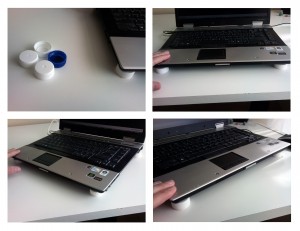 I wondered and checked the internet afterwards and found some similar laptop stands for sale. This is free, save the plastic caps and enjoy!